S-MATE Controls MINI R3 On/Off Via the "eWeLink-Remote"
SONOFF released two new products recently: MINI R3 and S-MATE. MINI R3 is an upgrade version of the DIY smart switch. The maximum load current is increased from 10A to 16A, some functions have been optimized such as network pairing being upgraded to Bluetooth pairing which is faster than other methods, and the S1 and S2 wire terminals connected to the external switch have been removed compared to MINI R2. Although MINI R3 can not be connected to an external switch itself, the S-MATE (switch mate) makes it.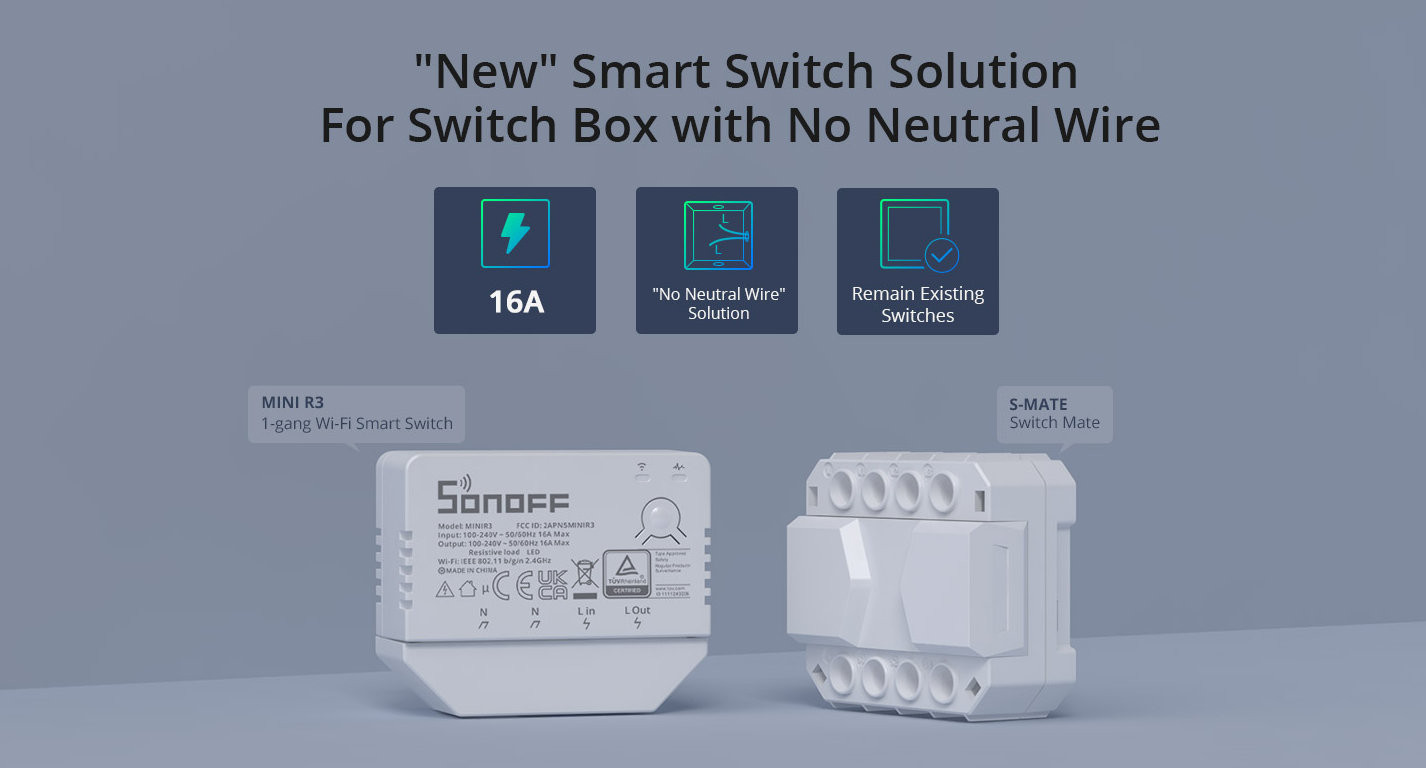 In some traditional household cases, it is not that easy to retrofit the lighting into smart automation as there is no neutral wire in the switch mounting box. The combination of MINI R3 and S-MATE creates a new Wi-Fi solution to this issue. S-MATE is coin cell battery-powered, and it can be considered as a remote control when connecting with the ordinary switch. When the switch is turned on/off, the S-MATE connecting with the switch triggers an "eWeLink-Remote" signal, the MINI R3 receives the signal and changes the relay status even there is no Internet connection as it has "eWeLink-Remote" capability.
An S-MATE has four S-terminals, which can be connected up to one 3-gang switch, no matter your ordinary switch is 1-gang, 2-gang, or 3-gang, the S-MATE always meets your need. The four L-terminals are equivalent to terminal blocks to connect the wires in it together, which are designed for easy modification and can be left unconnected. The remote control way, which is not what we know 433MHz, but is part of Bluetooth, is unique to eWeLink, we call it "eWeLink-Remote" control.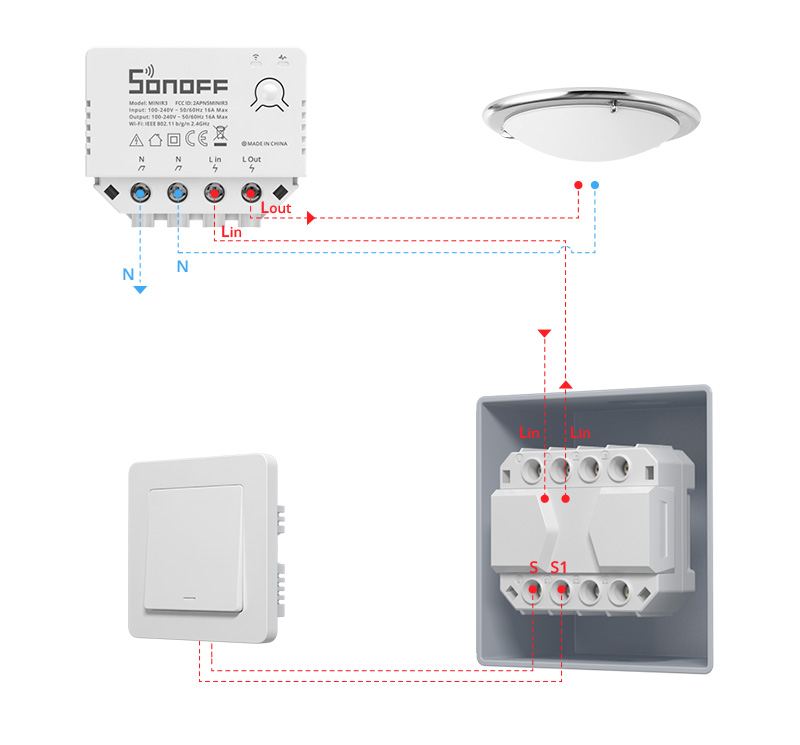 As A Smart Scene controller to Trigger Other Smart Devices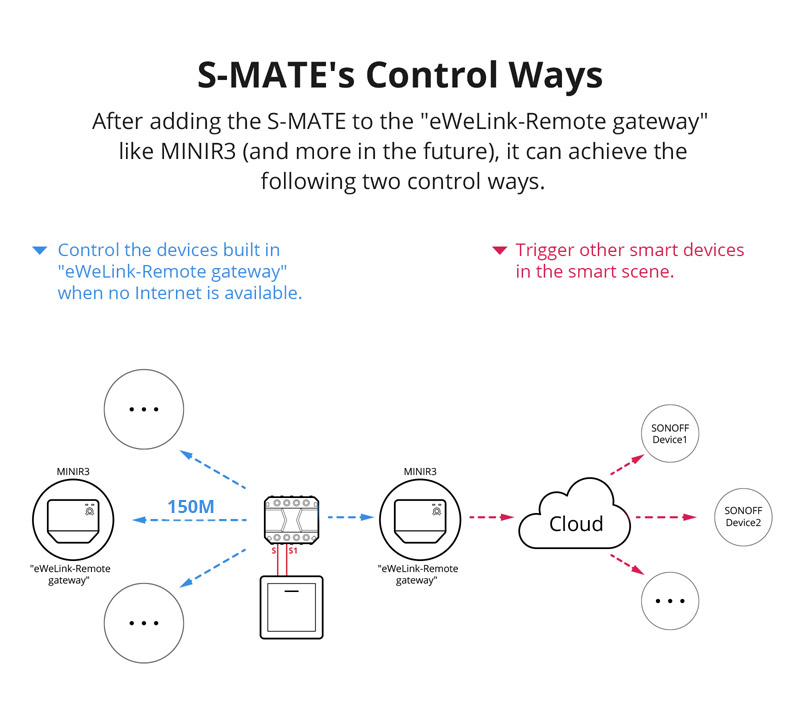 S-MATE is the first module that can transmit the "eWeLink-Remote" signal, and other shapes of transmitting modules will come soon, such as wall switch type wireless scene controller R5. We name them "eWeLink-Remote sub-devices".
MINI R3 is the first device with "eWeLink-Remote" received, and subsequent new products of various types will add this function gradually instead of 433MHz RF. We name it "eWeLink-Remote gateway".
The concepts "sub-devices" and "gateway" of eWeLink-Remote is just like Zigbee. Once sub-devices are added to any of the gateways, it can communicate with other protocol devices through the smart scene. It means you can control any other smart devices by S-MATE. S-MATE is like a smart scene controller but needs a gateway.
List of Products with "eWeLink-Remote" Control
| | |
| --- | --- |
| SONOFF Products with eWeLink-Remote Gateway | SONOFF eWeLink-Remote Sub-devices |
| | |
| | |
| | |
| | |
| | |
Advantages of "eWeLink-Remote" Compared to Traditional 433MHz RF Control
"eWeLink-Remote" control is an optimization based on the shortcomings of traditional 433MHz RF control.
Bind Devices on APP

433MHz RF learning requires a long pressing of the button on the receiving device, and then the transmitting sends a signal to complete the learning and binding process. After completion, the device can be controlled by the learned remote control. But if the device has been installed in a hard-to-reach place, it will be very troublesome to learn new buttons.

The "eWeLink-Remote" allows the device to enter the learning mode directly clicked in the APP. No matter where the devices are, you can quickly add a new remote control.

Just Learn Once and You Can Control All Devices

The traditional 433MHz RF remote control requires learning with the controlled devices one by one. For example, if a remote control needs to control 3 devices locally at the same time, it needs to perform 3 times of learning operations.

As the "eWeLink-Remote" transforms the concept "learning and binding" to "gateway and sub-devices". So, you do not need to learn devices one by one, just add sub-devices to any of the gateways once and then set smart scenes to control all devices you want.

S-MATE, as an eWeLink-Remote sub-devices, once added to any eWeLink-Remote gateway, such as MINIR3, can not only control all products with eWeLink-Remote gateway when there is no network connection locally but also controls any other smart device in the smart scene when there is a network connection.

Better Manage Your Remote Control in APP

You will not be able to know how many 433MHz RF remote controls have a device learned, however, "eWeLink-Remote" supports adding, editing names, and deleting remote controls(sub-devices) on the APP. The sub-devices will be displayed in the gateway's sub-devices list and as a device with UI on the APP.

Some users may encounter the problem of automatic light on/off though there is no one switch it or any automatic scenes. Why is this light switch on/off inexplicably? One of the big reasons may be that when the device is learning the remote control, it mistakenly learned the signal from other places. It may be that a 433MHz sensor of the person next to you was triggered and accidentally learned to your device. Cause you don't know which remote control you have learned. Once the sensor in the next door is triggered again, your light will switch "weirdly".

The device is restored to factory settings after deleting the device on the APP, but the remote control that has been learned cannot be deleted now. The only way to delete the wrong remote control now is to perform the button clearing operation. The number of remote controls that a device can learn is limited, ranging from 4 to 16, if the device learns at most 16, then when it learns the 17th, the first one will be squeezed out by default, and so on to clear the wrong one. Obviously, this is a very cumbersome process. "eWeLink-Remote" allows the remote control learned displayed on a list on the APP, and designated remote control can be deleted with one tap, which makes it more convenient to manage the remote controls(sub-devices).

Stronger Signal, Longer Control Distance

The distance of the traditional 433MHz RF control is about 15-25m in the open area, the signal strength of the "eWeLink-Remote" has greatly enhanced. S-MATE's signal transmission distance is up to 150m in open areas.